EMPLOYMENT
Eastern Floral employees work as a team. As an industry leader we believe in the Eastern Floral way of look, style and feel in everything we do, from a professional attitude to a genuine smile that reflects a positive attitude which leads to a great working environment.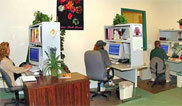 Eastern Floral is passionate about transforming our customer's requests into beautiful displays of visual emotions. Every person who comes to us is a priority, and it is our duty to go above and beyond to serve them. We not only want to create a captivating work of art, but we want to create for our customers an experience that's nothing short of exceptional. Each member of our team plays an impactful role in achieving just that! We value and appreciate our team and we strive not only to have a successful company, but to have instilled confidence in each member. Fun, creativeness, fellowship and a little hard work is the daily theme at Eastern Floral. If this sounds like a perfect fit, we would love to hear from you!
Available Positions
Seasonal Floral Designer
Explore your creative side!
Retail Sales and Customer Service
Join the team!